Insider Tips, Tricks, and Tactics to get the Most From Your Twitter Social Media Marketing
Twitter is today's schizophrenic social media platform. Investors don't like it but business owners love it. Business owners love it because Twitter gives them a great way to directly engage exactly the people they want to engage with the message they want to deliver.
So while Twitter leadership is searching for tips and tricks to make their company more appealing to the investment community, anyone involved in digital marketing should be looking for tips and tricks to get the most out of the social media marketing they do on Twitter.
Here are some Twitter follower-building tips, tricks and tools you need to include in your tactics and strategies.
Hashtags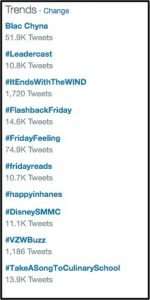 Lots of digital marketers toss around Twitter hashtags without giving much thought to them. After all, they can't hurt, can they?
It's difficult to mess up your Tweets with hashtags. However, unless you give some thought to them, they won't do you much good either. Here are some ways to get the most out of your hashtags.
Find trending hashtags. You'll see a list of trending hashtags when you login to your Twitter home page. Look it over and see if there's one you can use for some of your daily tweets. These will get you some eyeballs.
Hint: Although they might not promote what you're selling directly, motivational tweets and quote tweets, when they are trending, perform very well. They can be used to boost your branding.
See What Others are Using
Head over to Twazzup.com and do some hashtag research. Enter a hashtag here and you'll see how many times it is used each hour. You'll also get a list of the most current Tweets using that hashtag as well as a list of Tweets from influencers who are using the hashtag.
Keep a spreadsheet that lists all the hashtags you research and how often they are used per hour so you don't have to look them up each time. Further, this will help you narrow down your hashtag list to just the most useful ones.
Discover Your Hashtag Success
When you're in Twitter, go to the platform's analytics: https://analytics.twitter.com/user/yourusername/home. Once there, drill down and start looking at how individual Tweets performed. Select "View Tweet activity" or "View all Tweet activity."
This will give you lists of your Tweets over a given period of time. Next you want to select Tweets that perform well or poorly for you so you can discover the reasons. One of the good things Twitter does for you, is tell you if anyone engaged your Tweet because of the hashtag you used.
Even though Twazzup may tell you that a certain hashtag is used many time each hour, if it doesn't win engagements for you, it's of no use. On the other hand, a less frequently used hashtag, if your Twitter followers like it, will be worth reusing.
Boost Your Branding
Using hashtags is one strategy for growing your Twitter following and boosting your branding. Smart retweeting is another great way to accomplish this. Here are some simple steps to do this in a strategic manner.
Find the influencers in your niche. In other words, find the influencers who are reaching the same audience you want to reach. One good way to do this is via com. Search keywords to find influencers in your topic areas.
Retweet posts from those influencers and be sure to credit them with a via @influencerTwittername, or by @influencerTwittername. When you do this, the influencer may retweet your post to his or her following. Also, many influencers will start following you.
Set up Google alerts on keywords that relate to your niche then Tweet links to good articles on those topics. Again, credit authorship of the articles with a "by @authorTwittername." If the author doesn't use Twitter, then you may not want to Tweet it out, unless you think it's so good your followers absolutely need to read it.
Use these tactics every day to keep your Twitter feed fed and you'll put yourself on a path to substantially build your Twitter following with followers who share your interests. Once you've built up your following, there are many ways they will help you in your digital marketing efforts.